Today I would like to share some storage solutions for a small spaces with a vintage flair, along with a tour of my itty bitty kitchen.

I put together this little vignette yesterday afternoon to help alleviate my tiny kitchen small space storage woes. First I had a vintage Coke bottle crate lying around so I decided to utilize it as a spice rack. I haven't printed out the spice jar labels yet or upgraded my bottles I just used what I had on hand low and behold I just freed up some cabinet space!
My countertops are virtually camper sized and I needed to free up some space there as well so I used an old cheese grater to hold my wood utensils. I turned it upside down, to prevent the spoons from falling through I cut a plastic plate into a small square and simply slid it inside to make a bottom. Hung it on the wall, and voila one less canister taking up valuable countertop real estate. What that in the little silver shadowbox frame you may be wondering? Vintage Jello molds with jello fabric lining that I threw together. The paper flowers my daughter made I thought added visual interest. And of course I had to place my measuring spoons within reach.
Want to see the rest of my itty bitty kitchen? OK,…My book collection is pretty big, and I am always stashing them everywhere, and heck yes I found room for some of them in my kitchen too. Creating a little library corner I stacked a lawyer style bookcase that I incorporated stained glass into on top of an old dresser which I use for additional storage. Canisters I don't use everyday…go up high.
I love to display collections, again grouping items even if you only have 3 items that's considered a collection. Being short on small space storage does not mean you have to scrimp on style! I try to display the things I love, that I use daily. If it doesn't serve a purpose, its scooted out of my kitchen! Grandma's corner cabinet holds my barware, her rose china, and wedding memorabilia. Need room for purses and bags? A vintage door knob hanger I put together does the job. And finally Grandpas Tole tray fits nicely on the wall, easy access to carry dinner or drinks to the backyard for guests.
Here is another view of my tiny kitchen
And my solution for the microwave, toaster oven, and large appliances like my kitchenaid, not the ideal one as it blocks the entrance to the carport, but I do need a microwave in the kitchen! I don't know how people can live without one. If you are thinking the same as me, but currently don't have a microwave, then you could always check out something like this dacor dmw2420s to give you a better idea of what you could get.

And you thought I was kidding about camper sized counters? I end up utilizing my stovetop and kitchen table for workspace. Please excuse the dappled lighting, I forgot to turn off the crystal chandelier that I picked up for 5 bucks at a yard sale and its casting lovely shadows. Hold on, wait where is the coffee maker you may be wondering, a girl absolutely cannot survive without coffee! If I can move things around enough I might consider getting a dishwasher at some point. My friend told me that the Best Dishwashers in India for 2019 would be a good place to start to find the right dishwasher for myself.
Here is the coffee station…. I moved it to the converted porch, a project in process. How do you like the pass through bar I made with an old french door, and granite tiles? Its still unfinished… not sure what to do with this room yet. It needs to serve multiple purposes, office, guest room, library, I just can't make up my mind! Having a coffee counter is great for all of us coffee drinkers, however, sometimes you get the odd coffee grain spill onto the floor, so it's nice to have something like this canister vacuum / Bissel to help me clear up the mess. That awesome green cabinet I use for pantry overflow, would you believe I found it curbside? Yup the mini fridge too, that's another project…. to pretty it up that black thing.
Well I hope you enjoyed some of my small space storage solutions and the tour of my itty bitty kitchen, hopefully It inspired you.
Parties I am attending this week include:
Bloglovin Blog Hop @ http://VMG206.com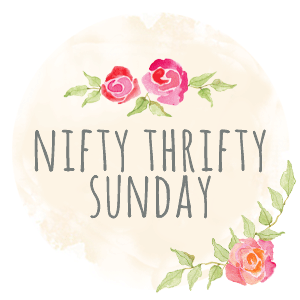 Monday Funday @ http://uncommondesignsonline.com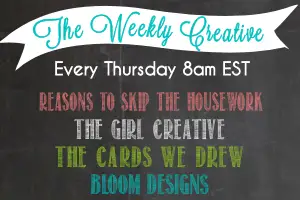 Tweek It Tuesday @ http://cozylittlecottage.com